In iOS 16, Apple has added a new "Copy and Delete" option to the screenshot interface on iPhone. This article explains what it's for and how to use it.

Whenever you take a screenshot on your iPhone and tap on the preview thumbnail that appears in the corner of the screen, iOS brings up an image editing interface that lets you easily highlight, draw on, and crop the image before saving it or sharing it.
With ‌iOS 16‌, Apple added another useful function to this interface when you're finished editing: Copy and Delete.
Basically, what this option allows you to do is copy the screenshot to the clipboard and then trash it in one quick action. That way you can paste it wherever you want, to go in a Message or email, for example, without having to save it in your Photos library first. Here's how it works.
Take a screenshot in the usual way for your particular device.
Tap the thumbnail image, then make any desired edits using the markup tools.
Tap Done in the left-hand corner.
Tap Copy and Delete.
Switch to another app with an input field, then hold your finger on the input space where you want to paste the image.
Tap Paste in the popover menu.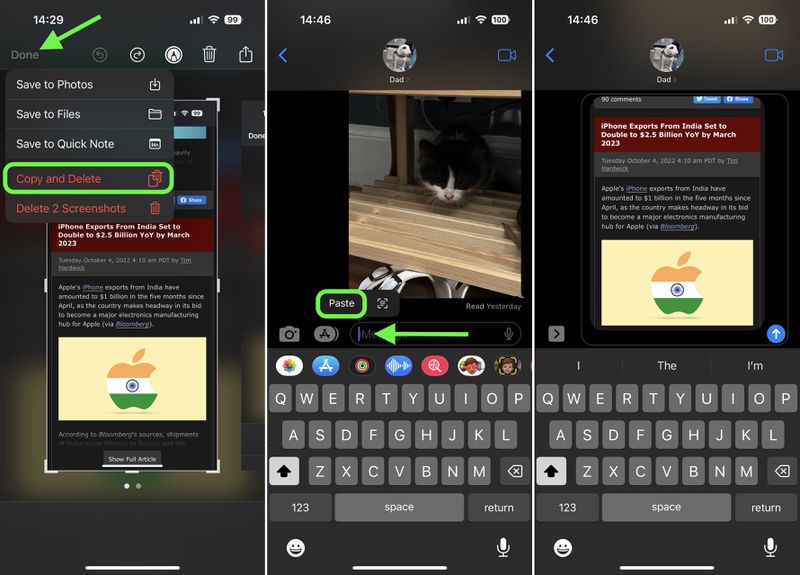 Note that the Done dropdown menu in the screenshots interface also lets you Save to Photos, Save to Files, and Save to Quick Note.